Cleaning and Renovations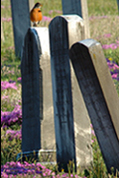 Granite and marble are natural products and as such the weather ultimately takes its toll. Memorials can become stained and marked. Inscriptions fade with time and eventually may require re-gilding or possibly even re-cutting.

At The Memorial Partnership, we offer a comprehensive renovation and repair service which is second to none. From simply cleaning and re-levelling to a complete renovation - no job is too small. We are confident that we can make most memorials look as good as new.

If you require a quotation for this service, please contact us at one of our showrooms, where we will arrange for an inspection.

Copyright © Gary Green Memorials
Web Design by INDIGO 21